Accessing the platform

FPGAAccel
Command line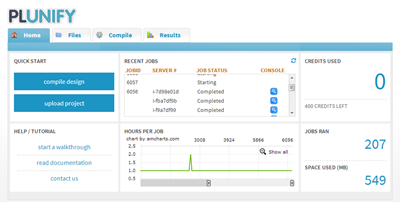 FPGAAccel
Web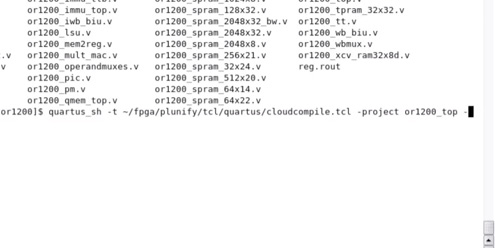 API / Script based plugin for your tools
A small and secure client that enables companies with established tools, to access the cloud without worries. This client integrates with your tools without disrupting their workflows.
It understands Tcl and works with an API exposed by our EDAxtend platform. Use it's functionality to automate jobs and run compute intensive processes in the cloud. All these are done
with a simple command in a command line interface
.
Download the Plugin
---
Features

Run multiple builds in parallel
Timing closure, regression testing, design space exploration and many other design steps require many iterations and long builds. Why wait? Plunify enables you to customize and run multiple builds in parallel with simple commands, saving you massive amount of time and effort.
Lightweight and Secure
Small yet powerful. Downloaded in minutes, our script packages and encrypts your files with keys unique to you. All your data is transmitted only in a secured SSL channel to a dedicated location for added peace of mind. For more details, please feel free to contact us
Intuitive and Graphical Results
Compared to a full EDA software installation, FPGAAccel Client is easy to use and does not come with complex interfaces or lengthy user manuals. Viewing and downloading the results is just as easy. Leave the analysis to us and use our web report viewer to view your results in a graphical and intuitive manner.

Supports Netlist Files
To balance a need for higher security with upload speed/convenience, FPGAAccel Client accepts netlist files instead of RTL files. This means users can synthesize the design locally and send only netlist files. All files are still encrypted by default and place-&-route will be executed in the cloud. Your runtime in the cloud will be shorter as well.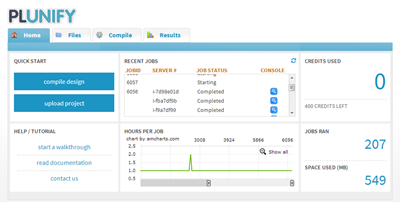 Online - Web based Interface
No downloads, installation or setup. Experience a full FPGA design compilation online with just your browser. Start with either source files or netlists. You have the freedom to select multiple devices and different tool versions.
Your results appear on a highly graphical and intuitive charts. And you can download all the log files if you want to analyse it better. With no downloads, you can start your FPGA project in minutes.

Sign Up for an account
---
Features

Just you and your browser
No downloads, installations, configurations or any maintenance - it is that easy to get started! Just use your browser, sign up and you are ready to go. Our web tool gives chip designers a quick and fast way to access chip design tools from any computer or mobile device. Click here to sign up

Full Encryption and Secure Transmission
All your data is transmitted in a secured SSL channel to a dedicated location for added peace of mind. It is also encrypted using AES before storage. Each account uses dedicated servers for processing and no data is shared. For additional details, please feel free to contact us.

Supports Legacy Tool Versions
We know that supporting legacy products and tool versions can be a big pain and hassle. That's why you can just click and choose the software tools you want on FPGAAccel Web, and we will launch a server with the right software. No more maintenance or keeping backup copies - we do all that for you. Click here to find out what versions we support

Design Exploration
A more-optimized product requires detailed knowledge of the different types of devices available, for example their features and characteristics. FPGAAccel Web enables designers to target multiple devices at the same time, helping to easily find out how the design fits into different devices and to pick the best one for the project.
Security is a full-time commitment
Security is first and foremost in our minds. We hold our cloud providers to the highest security standards.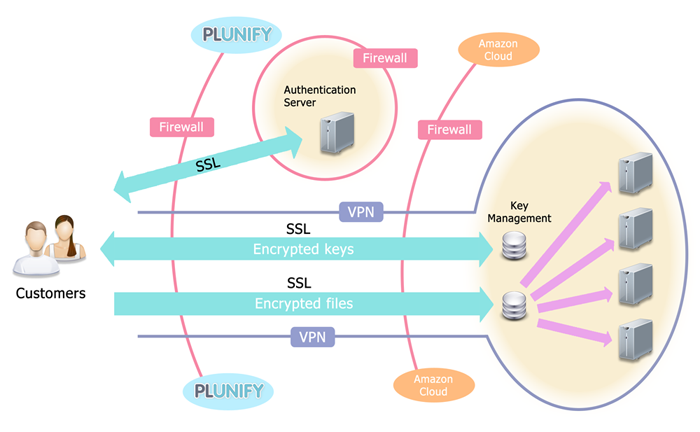 On our end, EDAxtend is secured using a variety of technologies, including and not limited to:
Transmission of data
Secure encryption or SSL is used in all communications--the same methods used by leading banks. All communications between you and our website are SSL-encrypted. Using the command line interface, all data is AES-encrypted before transmission. We also generate a set of public/private keys on the fly to add a further layer of encryption on your files.
Data Storage
All data is AES-encrypted. Only Plunify has access to your files, however we do not read your source code. It is securely erased from our servers immediately when processing is complete. Your account details are also fully encrypted.
Infrastructure Security
Essential network security such as firewalls are in place 24/7. All software are updated regularly with newest security enhancements. Only authorized staff are allowed to access any parts of the infrastructure. Each staff is limited and restricted by their area of work.
Data Privacy and Confidentiality
All your data belongs to you as defined in our terms and conditions. If required, Plunify is willing to sign additional documents that better protects your IP and the secrecy of your data, please contact us here